The Best Heating Repair
When your heat is not working properly, temperatures in your home or business can become uncomfortable, and even unbearable. Fairview Heating & Air Conditioning will repair your furnace promptly to keep you warm, no matter the weather outside. Call 925-625-4963 today to schedule an appointment.
Can a thermostat issue cause a furnace not to work?
Yes, a thermostat issue can cause a furnace not to work. If the thermostat is malfunctioning or not set correctly, it may not signal the furnace to turn on or may not accurately regulate the temperature. Common problems include dead batteries, faulty wiring, or an incorrectly programmed thermostat. Regularly checking and addressing thermostat issues, such as recalibrating or replacing it when necessary, is essential to ensure proper communication with the furnace and maintain a functional heating system.
Why does my furnace run constantly but no heat comes out?
Possible causes include a malfunctioning thermostat, a clogged air filter restricting airflow, a faulty ignition system, or a malfunctioning gas valve. Additionally, issues with the blower motor or a malfunctioning limit switch could be contributing to the problem. It's advisable to consult a professional HVAC technician to diagnose and address the specific issue, as continuous operation without heat can lead to increased energy consumption and potential damage to the furnace.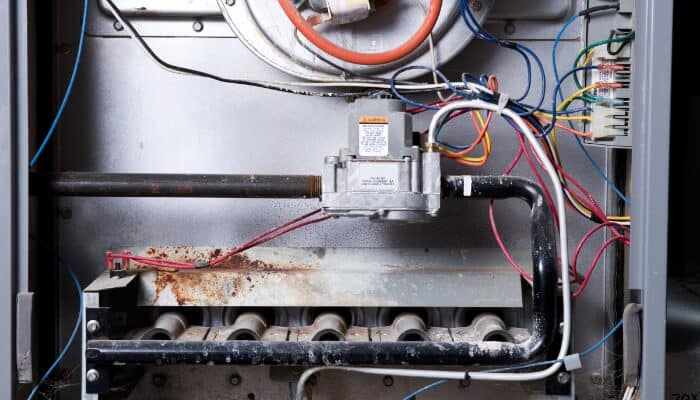 6 Warning Signs Heating Repair Is In Your Future
What are some signs that you need to repair your furnace or heating system? Some of the most common reasons our customers call us for heating repairs include:
Difficulty starting the unit.  

Thermostat not functioning properly.  

Not providing adequate heat.  

Poor indoor air quality.  

Visible leaks or cracks in the equipment.  

Unreliable pilot light.
Contact us today because the sooner you address the problems, the better!
Repairing Commercial Heating and Air Conditioning Systems Since In Oakley, CA 1988
When your HVAC system is not reliable or simply not working at all, then you need it fixed NOW. Fairview will complete your HVAC repair promptly and professionally to get your home or business back to a comfortable temperature. We have been providing service in and around Oakley, CA, since 1988.
We can even help you get financing!
Why Choose Us
With over 50 years of combined service knowledge, our licensed and insured HVAC technicians have the expertise to diagnose your problem quickly and provide professional repairs at reasonable rates.
We take pride in our work, and look forward to completing your HVAC repair in a manner that makes us your "go-to" for any future heating and air conditioning needs.
We built our business on referrals because we are large enough to serve you and small enough to know you!