5-Star Residential Air Conditioning Repair
Let Fairview get your air conditioning fixed fast! When your air conditioning is not working, temperatures can get very uncomfortable, and the heat can even become dangerous. The licensed technicians at Fairview Heating & Air Conditioning will complete your air conditioning repair job quickly to get your home or business back to a cool, comfortable indoor climate.
Call us at 925-625-4963 today to get your job started!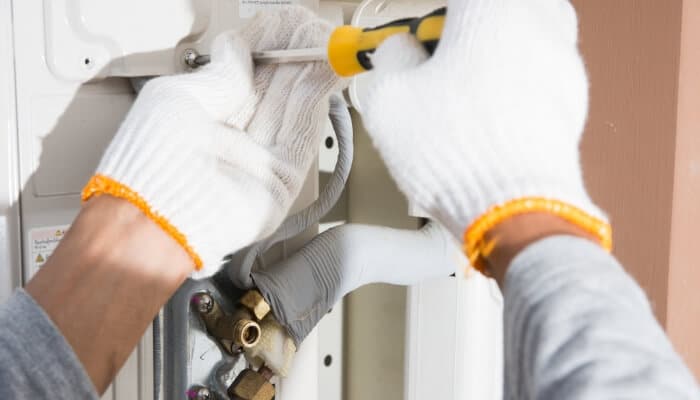 Early Warning Signs You Need Air Conditioning Repair
There are lots of ways to detect problems with your residential air conditioning system, but here are 5 big warning signs that you need to have your air conditioner repaired:
Your AC is struggling to keep all of your areas cool

Uneven temperatures throughout your home or business

Noticeable cracks or leakage in your ac equipment or ductwork

Loud or unusual noises coming from your ac unit

Poor indoor air quality
When should I repair my AC near Oakley, CA?
You should consider repairing your AC if:
The air conditioner is relatively new: If the unit is still relatively new (less than 10 years old), and the cost of the repairs is not excessively high, it may be more cost-effective to repair the unit rather than replace it.

The issue is minor: If the issue is a minor problem, such as a clogged filter or a refrigerant leak that can be easily fixed, it may be more cost-effective to repair the unit.

The repair cost is less than 50% of a new unit: If the cost of repairs is less than half the cost of a new unit, repairing the air conditioner may be the best option.

The unit has a good energy efficiency rating: If the air conditioner has a high SEER rating (Seasonal Energy Efficiency Ratio), repairing it may be more cost-effective in the long run compared to buying a new unit.
It is important to have a licensed HVAC professional evaluate the condition of your air conditioner and provide a recommendation on whether to repair or replace the unit based on its age, condition, and efficiency.
If you notice any of these issues with your AC then it's time to call Fairview! Don't wait until it's too late.
Contact us today and we'll get one of our techs as fast as possible.
Can I Fix My Own AC Unit?
This is not a time for do-it-yourself fixes. You might have a friend that's handy with tools or an uncle who used to come by the house and help with odd jobs. Those thoughts might have you thinking that you might not need to call a professional to do the job.
We can not say this strongly enough: resist any urge to try to fix a central air conditioner on your own!
The machine is coursing with deadly levels of electricity and chemicals that can severely injure someone that has not trained for years on how best to handle them. Don't make your situation worse by trying to tinker on your HVAC unit. Call 925-625-4963 today and leave it to the professionals.
Trust us, you'll thank us later!
Why Choose Us?
Why choose Fairview Heating & Air Conditioning to complete your air conditioning repair?
Having been in business since 1988, we have over 50 years of combined experience. Our licensed and insured technicians have the expertise to diagnose your problem and provide necessary repairs quickly and efficiently. We even understand the importance of offering financing to our customers!
We take pride in our work and look forward to completing your AC repair in a manner that makes us your "go-to" for any future air conditioning needs. Call 925-625-4963 for an appointment! We look forward to serving you!