Residential Air Conditioning Repair
Let Fairview get your air conditioning fixed fast! When your air conditioning is not working in Oakley, CA, temperatures can get very uncomfortable, and even dangerous. The licensed technicians at Fairview will complete your air conditioning repair job quickly to get your home or business back to a cool comfort.
If there's a rattling noise or not enough cool airflow, call us at 925-625-4963 today to get your AC fixed fast!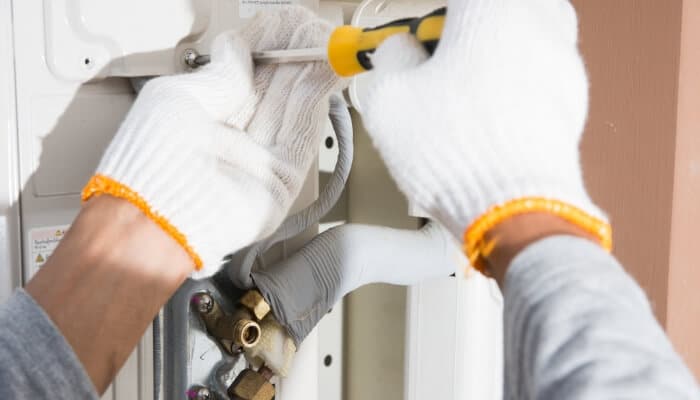 Early Warning Signs You Need Air Conditioning Repair
There are lots of ways to detect problems with your residential air conditioning system, but here are 5 big warning signs that you need to have your air conditioner repaired:
Your AC is struggling to keep all of your areas cool

Uneven temperatures throughout your home or business

Noticeable cracks or leakage in your ac equipment or

ductwork

Loud or unusual noises coming from your ac unit
If you notice any of these issues with your AC then it's time to call Fairview! Don't wait until it's too late. Contact us today and we'll get one of our techs out to you as fast as possible.
When should I repair my AC near Oakley, CA?
You should consider repairing your AC if:
The air conditioner is relatively new: If the unit is still relatively new (less than 10 years old), and the cost of the repairs is not excessively high, it may be more cost-effective to repair the unit rather than replace it.

The issue is minor: If the issue is a minor problem, such as a clogged filter or a refrigerant leak that can be easily fixed, it may be more cost-effective to repair the unit.

The repair cost is less than 50% of a new unit: If the cost of repairs is less than half the cost of a new unit, repairing the air conditioner may be the best option.

The unit has a good energy efficiency rating: If the air conditioner has a high SEER rating (Seasonal Energy Efficiency Ratio), repairing it may be more cost-effective in the long run compared to buying a new unit.
It is important to have a licensed HVAC professional evaluate the condition of your air conditioner and provide a recommendation on whether to repair or replace the unit based on its age, condition, and efficiency.
Benefits Of Professional AC Repair Services
When your air conditioner breaks down, it's best to avoid do-it-yourself fixes. A broken air conditioner can pose electrical and chemical hazards that risk injury and further damage to the unit with DIY approaches. Attempting repairs yourself may also void your manufacturer's warranty.
Professional technicians are trained to quickly diagnose and repair any issue and provide high-quality work with lasting results - not band-aid solutions. If specialized equipment is needed to inspect and fix the air conditioner, a professional will have easy access for fast results.
As the exclusive retailer of the American Pride HVAC Series, Fairview technicians are highly trained and equipped to service your residential or commercial AC. Our pros have the tools and experience to repair American Pride products and a wide range of other makes, models and brands.
Our Additional AC Services
Our services don't just stop at getting your air conditioner up and running again. We care for your system from top to bottom, year-round. Whether you are ready to upgrade to a new unit or getting ready for summer, we are here to help.
AC Maintenance and Tune-Ups
Having your AC professionally inspected and tuned up in the early spring can prevent repairs and breakdowns. Our preventative AC maintenance includes a thorough inspection, refrigerant check, filter change and more. Maintaining your unit before summer helps extend its lifespan and stay ahead of the heat.
AC Replacement and Installation 
If your AC is more than 10 years old or requires multiple repairs, it may be more cost-effective to replace it instead. Fairview provides professional AC replacement so you can enjoy your new energy-efficient system for years to come. We will help you find the right size and model for your needs and install it with your safety and satisfaction as our number one priority.
Indoor Air Quality
A damaged air conditioner can push dirt and dust through your home contributing to allergies and asthma. Fairview has a wide range of indoor air quality solutions to meet your unique needs, including air testing to identify contaminants and match you with the right purification system.
Ductwork
If your ductwork is damaged or dirty, your AC may be struggling to properly cool your home. We provide air duct sealing, repair and cleaning to remove any buildup and fix leaks so your home stays comfortably cool and your air conditioner can perform at peak efficiency.
Why Choose Us?
Having been in business since 1988, we have over 50 years of combined experience. Our licensed and insured technicians have the expertise to diagnose your problem and provide necessary repairs quickly and efficiently. We even understand the importance of offering financing to our customers!
We take pride in our work and look forward to completing your AC repair in a manner that makes us your "go-to" for any future air conditioning needs. Call 925-625-4963 for an appointment! We look forward to serving you!