When It's Time To Install a New Air Conditioning Unit...Call Fairview!
Unfortunately, air conditioning units do not last forever. However, when it's time to replace your ac, it will be a valuable investment in your home or business. Fairview Heating & Air Conditioning has been replacing AC systems in and around Oakley, CA, since 1988. We will provide you with a system that meets your needs for years to come and keeps you cool all through the California summer.
We install all types of AC systems including:
If you're in the market for an air conditioner upgrade, call 925-625-4963 today to speak to someone at the company that's large enough to serve you, and small enough to know you!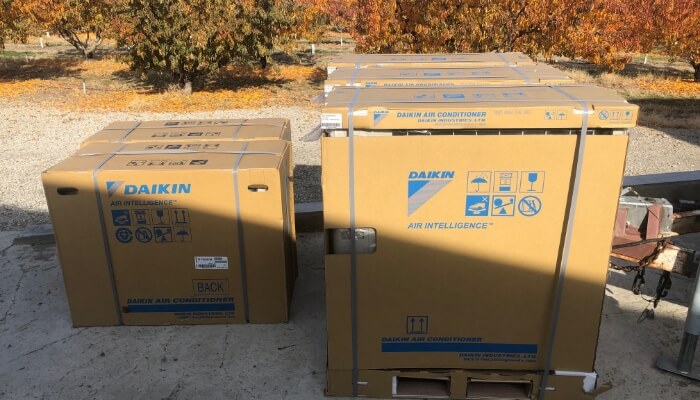 Signs You May Need A Residential AC Replacement
Many of our customers wonder "When is the right time to replace my existing ac unit?" Here are some of the factors to take into consideration when you are deciding to repair or replace your ac:
Inefficient: Your current air conditioning unit is no longer efficient, or not cooling at all.
High Cost of Cooling: Your older, less efficient ac unit is causing your monthly cooling costs to skyrocket!
Increased Need: Your cooling needs have changed due to a home addition or business expansion.
Costly Repairs: Repairs on your older ac system have become frequent and expensive.
Where can I find financing for my AC Replacement near Oakley, CA?
There are several options available for financing an AC replacement:
HVAC Financing Companies: Some HVAC companies offer financing options for AC replacements. These financing options may have low or no interest rates, and flexible payment terms. Check with your HVAC contractor to see if they offer financing.

Personal Loans: You can also consider applying for a personal loan from a bank, credit union, or online lender to finance your AC replacement. Personal loans generally have fixed interest rates and repayment terms, and you can use the funds for any purpose, including home improvement projects.

Credit Cards: If you have a credit card with a low-interest rate or a 0% introductory APR offer, you may be able to use it to finance your AC replacement. However, be sure to pay off the balance before the promotional period ends to avoid high-interest charges.

Home Equity Loans or Lines of Credit: If you own a home, you may be able to use a home equity loan or line of credit to finance your AC replacement. These options generally have lower interest rates than personal loans or credit cards, but they use your home as collateral, so be sure to make payments on time to avoid risking foreclosure.
It is important to compare the interest rates, fees, and repayment terms of each financing option before making a decision. Be sure to choose the option that best fits your budget and financial goals.
If you're unsure whether it's best to repair your AC or replace it, our professional technicians will look over your existing unit and offer you a professional assessment.
When it's time to replace your air conditioning unit, then it's time to call Fairview! Contact us today to schedule service!
Why Choose Us?
Our licensed and insured technicians are air conditioning experts. We have the ability to custom-design your system to meet the specific needs of your home or business. We have built our reputation on prompt and professional service at reasonable prices, knowing that most of our new business is referred to us by our satisfied customers. We also make financing options available for you!
We look forward to installing your new air conditioning unit in a manner that makes us your "go-to" for any future cooling needs. Call 925-625-4963 today to schedule an appointment with one of our expert technicians!