Top Quality Ductwork Services
Do you ever wonder what's going on inside your HVAC ductwork?
The experts at Fairview have been providing the best ductwork services in Contra Costa since 1988, so you don't have to wonder anymore! We can tell you.
Though people may be tempted to take them for granted, air ducts are a vital part of the heating and cooling system for your home or business. When your ducts are not working properly, it can cause a multitude of problems, including:
Less temperate indoor air.  

Dirty, unhealthy indoor air quality.  

Overtaxing your HVAC system.  

Higher heating and cooling bills.
Call 925-625-4963 today if you are looking to improve the efficiency of your climate control system!
We are the ductwork experts in the Oakley, CA area. We can help avoid problems by inspecting your ductwork and recommending services as needed.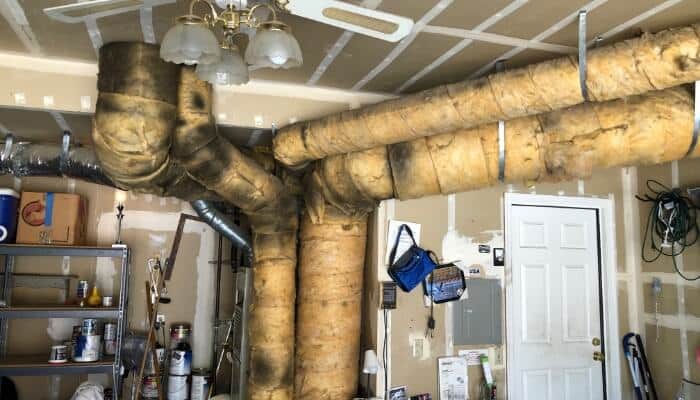 Air Duct Cleaning in Oakley, CA
How clean is your ductwork? If you don't know, then there are likely a multitude of pollutants such as dirt, pollen, and animal dander lingering in your ductwork and contaminating the air of your home or business. Fairview gets rid of the pollutants lurking in your air ducts. We offer a thorough air duct cleaning that will allow you to breathe easier!
Contact us today to schedule service.
Air Duct Repair And Sealing In Oakley, CA
Leaky, improperly sealed air ducts cause your home to lose energy and make for inefficient use of your HVAC system. When it comes to ductwork, some of the most common problems we see include:
Duct joints that have become disconnected.  

Damaged air ducts.  

Ducts that were improperly sealed, or never sealed.  

Ducts that run through uninsulated or under-insulated areas.
Fairview Heating & Air Conditioning will inspect your entire duct system and perform your air duct repairs so that you are not leaking energy or wasting money! Speaking of money, we can even help you get financing!
What Germs Are Inside Your Ducts?
Most of us take care to clean and disinfect the parts of our home that we can see, such as kitchen surfaces, because we don't want to touch germs. We can't see germs in the air and dirty ductwork is a breeding ground for many harmful elements, including:
Bacteria.  

Mold.  

Mildew.  

Fungi.
Choosing Fairview to perform your ductwork cleaning will help eliminate these harmful pollutants and keep your air cleaner and healthier. Contact us today to schedule service on your air ducts!
Benefits of Air Duct Repair & Sealing In The Contra Costa Region
When you call on Fairview for air duct repair, you can look forward to:
Lower heating and cooling bills.  

Better distribution of hot or cold air.  

Better indoor air quality  

Enhanced safety (like eliminating the risk of back drafting.)
Call 925-625-4963 today to see how much better it feels to breathe cleaner air in your home or office!
We Can Handle Any Problems With Your Contra Costa Ductwork
When you choose Fairview to clean your ductwork, you can expect a complete cleaning process including:
Inspection of all air ducts  

Removal, cleaning and reinstalling of all registers and grills  

Use of high-powered HEPA equipment to vacuum your ducts
Fairview Heating & Air Conditioning has been serving customers in the Oakley, CA area since 1988, so our licensed and insured technicians have the experience necessary to provide expert air duct cleaning. We provide prompt and professional ductwork cleaning service at a reasonable price. We look forward to earning your referrals and future business.
Let us help you breathe easier! Contact us today today to schedule an appointment for an air duct cleaning, inspection or repair.
What are the benefits of sealing air ducts?
Sealing air ducts offers several benefits. It improves energy efficiency by preventing air leaks, ensuring that conditioned air reaches its intended destination, and reducing wasted energy. This leads to lower utility bills and a more comfortable home. Sealing also enhances indoor air quality by preventing the entry of dust, pollutants, and allergens. It reduces strain on HVAC systems, potentially extending their lifespan. Additionally, well-sealed ducts provide more even heating and cooling throughout the home. Consulting professionals for proper sealing ensures these advantages and optimal system performance.
How often should ductwork be cleaned?
Ductwork should be cleaned every 3 to 5 years, on average. However, the frequency can vary based on factors such as indoor air quality, lifestyle, presence of pets, and environmental conditions. If you notice visible dust buildup, mold growth, or experience increased allergies, more frequent cleaning might be necessary. Regularly changing air filters and maintaining a clean living environment can help reduce the need for frequent duct cleaning. Consulting HVAC professionals can provide personalized recommendations based on your specific circumstances.